About POSH Palm Springs Inn
Meet Your Hosts Tony & Santo
"We fell in love with POSH Palm Springs from the moment we saw it"
Tony Gangloff and Santo Aloisi, owners of POSH Palm Springs, invite you to enjoy their recently renovated 1930's Art Deco architectural gem. Partnered for over 16 years, our lives have taken us from our birthplaces in Indiana and Massachusetts to the San Francisco bay area then San Diego and now Palm Springs! Tony's career had been rooted in chemical research in the biotech industry while Santo has both corporate and small business experience in accounting.
"The time had come to live out a lifetime dream of owning and operating a small friendly bed and breakfast."
During the course of our lives, we have always enjoyed being hosts to our friends and family in our home and wanted to take the experience to the next level. After having experienced the friendly, vibrant atmosphere of small inns across the country as well as internationally, we wanted to create that same experience for our guests. We have built an atmosphere where memories are created, encouraging guests to return again and again.
Our personalities are reflected in this wonderful Inn.
From the moment you enter the Inn through the massive frosted glass door, you are stepping into a refreshing space where your spirit and body are reinvigorated by the desert sun. Go further into the property and you will notice splashes of color everywhere, particularly the Mediterranean blue walls of the dining area and the backdrop to the hot tub. The entire property is a blend of Modernism and Art Deco. Once inside the individual guest rooms, you are transitioned into a calming space suited for restful sleep. The style throughout the property invites you to relax, refresh and unwind.
Tony and Santo welcome you to experience POSH Palm Springs and to leave with a sense of peace and relaxation that is necessary in today's hectic world.
General Inquiries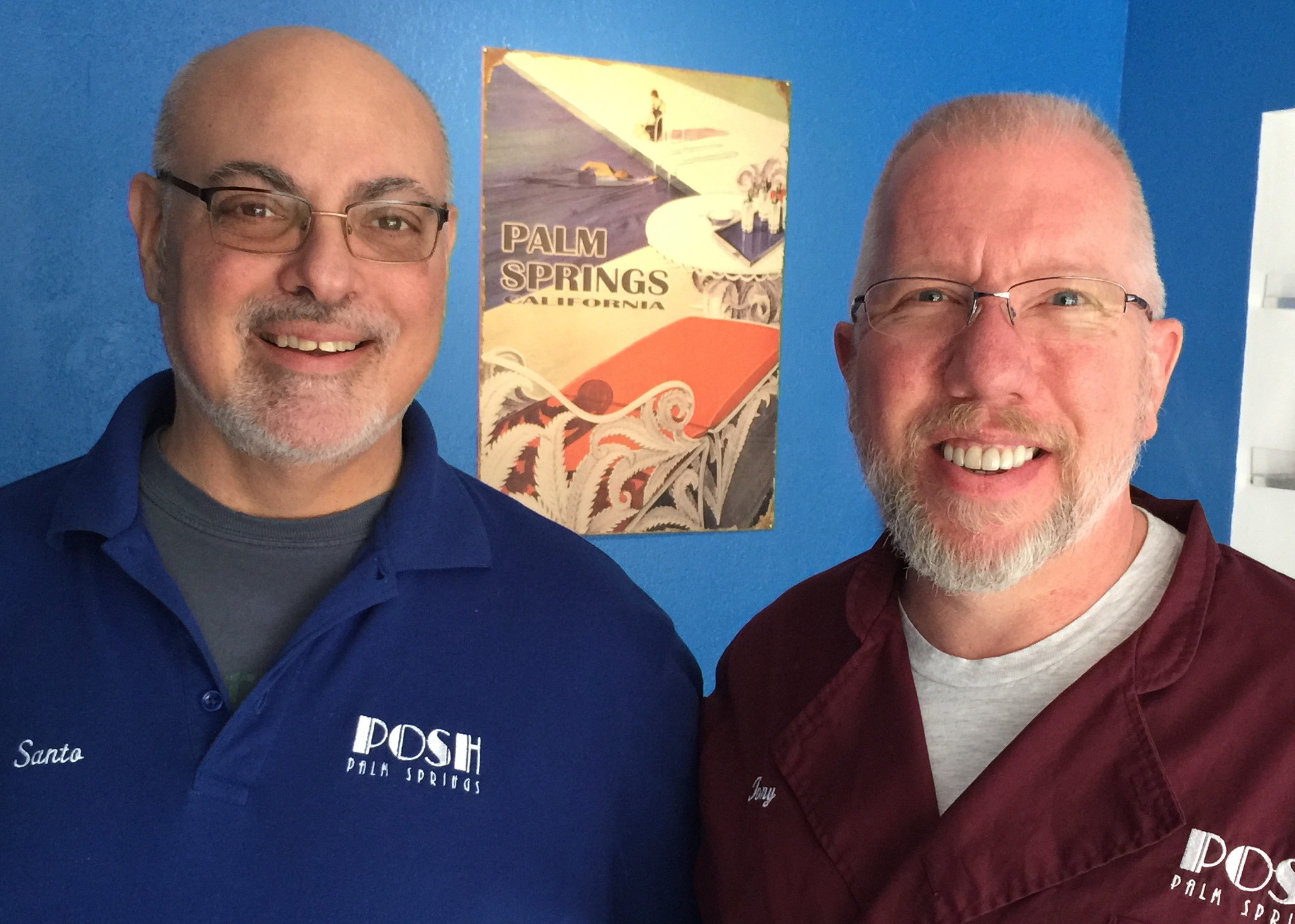 Tony Gangloff info@poshpalmsprings.com
Santo Aloisi info@poshpalmsprings.com